JANUARY 28, 2021
#65 – Michelle T. Holland, Director of Synergy IQ on Building Optimism in Business for 2022
---
In this episode, Michelle and I Daniel had a great conversation on the challenges businesses are facing and how they can bring optimism and pragmatism to tackle the brand-new year ahead of us.
We also deep-dived into:
The learnings of 2021
The uncertainty and the dilemmas business are facing due to the current circumstances such as this Omicron Variant
How the language we use on a day to day basis can shape who we are and what we believe to be true.
Michelle also defines optimism and how reality can distort our outlook and what we can do to overcome this
We touched on the importance of clear communication in a workforce and how we all can communicate better
The world is struggling with workforce shortages at the moment and Michelle shines a light on some creative ways to tack this problem
And we rounded off the chat with our expectations for 2022.
Guest Info
---

With over 20 years of experience and as a leader in creating business excellence through people, Michelle has helped thousands of leaders to build their confidence and skills in change. She is an experienced culture change expert, a certified Dare to Lead™ facilitator, and a strategic advisor to some of Australia's largest businesses and corporations. The author of 3 books, including the best seller "Culture Inc". Michelle speaks at conferences, runs workshops, advises and consults, challenging the thinking of some of Australia's greatest leaders. Not only is she a regular on this podcast, but She can also regularly be seen and heard as a guest on podcasts, networks, and interviews.
Where to find Michelle T. Holland
LinkedIn
Host Info
---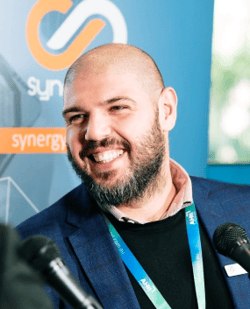 Daniel Franco
Daniel is a 'People Collector' kind, a steadfast optimist who believes that the power of trusting relationships is foundational to our bright future. He believes that the world is a better place when we work together. Besides being the Director of Synergy IQ, Daniel is the Host of the Creating Synergy Podcast and rises up every morning with the vision that he can help leaders create a business where their people feel safe, inspired and fulfilled.
Say hello to Daniel on LinkedIn.